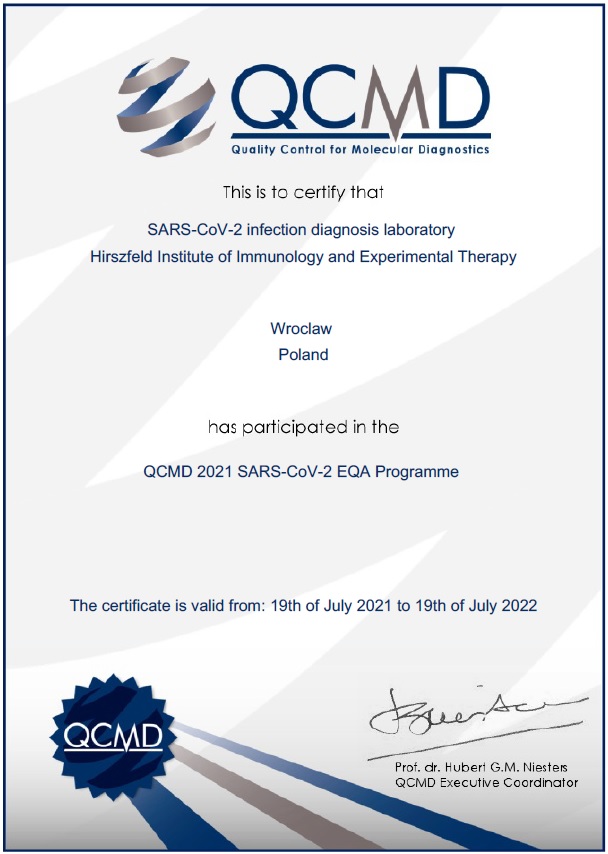 It is a medical diagnostic laboratory using real-time RT-PCR to test for presence of SARS-CoV-2 viral genetic material. All the laboratory premises are compliant with WHO class II biological safety regulations. SARS-CoV-2 Infection Diagnostics Laboratory is part of the Medical Centre at HIIET PAS.
It is included in the list of diagnostic laboratories KRLD (no.: 3913), as well as the COVID list of laboratories of the Ministry of Health. It is cooperates with the Wrocław Regional Health and Epidemiological Station, health care units, Crisis Centre of the Lower Silesian Marshal's Office, Regional Crisis Management Centre.
The Laboratory operates from Monday to Friday, between 8 a.m. and 4 p.m. Results are issued after at most 24 hours. Our workers consulted with other laboratories during the process of creating diagnostic procedures for SARS-CoV-2 testing. Aside from diagnostics, we also participate in a research project that aims to sequence 200 SARS-CoV-2 genomes from across Poland. The goal is to create a map of various polymorphic forms of the virus in Poland.