The leading topic of the Laboratory is to determine the mechanisms of the interaction of microorganisms that create the microflora with the cells of the immune system as well as the influence of endogenous and exogenous substances on neurodegenerative processes.
Currently, research is carried out related to the analysis of receptors, proteins and signaling pathways involved in the recognition and regulation of the immune system response by microorganisms that create the microflora. The structural analysis of bacterial antigens involved in interactions with the host is also carried out, their immunomodulatory properties and the impact on the host's health are determined, especially in the context of human diseases such as allergies, IBD, autoimmune and neurodegenerative diseases.
We are developing research on new mucosal carriers that can be used in immunotherapy of allergies or vaccines.
We are interested in the mechanisms of neuroprotective and immunomodulatory effects of preparations of natural origin, with particular emphasis on the yolkina peptide complex and ovocystatin, as well as research on lipid antigens as bioactive mediators of the intrathecal immune response in the course of multiple sclerosis.
Laboratory Head
Head: dr hab. Sabina Górska (0000-0002-3206-0695, https://www.researchgate.net/profile/Sabina_Gorska)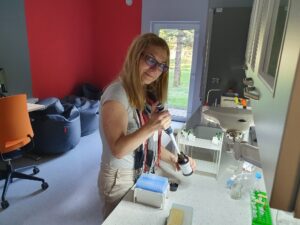 Sabina Górska graduated Biotechnology at the Wrocław University of Technology in 2006. In 2011, at the Institute of Immunology and Experimental Therapy of the Polish Academy of Sciences, she defended her doctoral dissertation on the immunochemical properties of Lactobacillus polysaccharides, and in 2017 she obtained the title of postdoctoral researcher in biological sciences for a series of studies on the structures and biological functions of surface antigens isolated from probiotic bacteria. In 2019, she became the Head of the newly established Laboratory of Immunology of Microbiome. Her scientific interests are related to research in the field of microbiology, glycobiology, immunology and immunobiology, and focus mainly on commensal and probiotic bacteria. In particular, the subject of her research work concerns the structural studies of bacterial surface antigens and their importance in the immune response in the context of human diseases such as allergies or ulcerative enteritis. She gained her professional experience in Poland and abroad. Additionally, she developed her competences in the field of intellectual property rights, project management, knowledge transfer and commercialization.
Team
Assistant Professors:
PhD Students:
Technical Staff:
Józefa Macała
Marianna Kuropatwa
Most important scientific achievements
Determination of the antigens structures of selected bacteria of the genus Lactobacillus and Bifidobacterium and demonstrating the possibility of modulating the immune system cell response by these antigens and their possible application in the treatment of allergic diseases.
Determination of the immunomodulatory and neuroprotective properties of compounds of natural origin, as well as the development of a diagnostic test to differentiate the active and inactive phase of chronic forms of multiple sclerosis.
Development of new vehicles (adjuvants) for antigens to be administered to mucus, including intranasal administration.
Research methods
qPCR, RT-PCR, mutation detection by PCR-SSCP, EMSA, DLR reporter analysis
ELISA, Western blotting, immunocytochemistry, immunofluorescence,
flow cytometry, fluorescence microscopy
NMR, TLC, GLC-MS, PEPSCAN
Cell cultures (including primary cell cultures), animal studies (mouse model)
Key equipment
CFX Connect qPCR system (BioRad)
Most important projects (during the last 10 years)
"Określenie struktury składników ściany komórkowej wybranych szczepów bakterii z rodzaju Bifidobacterium i ich rola w rozwoju chorób o podłożu alergicznym." Narodowe Centrum Nauki SONATA BIS 7 Okres realizacji: 2018-2023 Kierownik: Sabina Górska
"Antygeny lipidowe jako cel autoimmunologicznego ataku w stwardnieniu rozsianym." Narodowe Centrum Nauki, HARMONIA 4 Okres realizacji: 2013-2018 Kierownik: Maria Podbielska
"Badania nad metodami pomiarów i projektowaniem biofunkcjonalizowanych układów mikrofalowych tworzących sensory mikrobiologiczne." Narodowe Centrum Nauki, SONATA BIS 6 Okres realizacji: 2016-2021 Kierownik: Sławomir Gruszczyński (AGH), wykonawca: Sabina Górska
"Donosowe podanie probiotyków – opracowanie modelu in vitro alergicznego zapalenia błony śluzowej nosa oraz ocena potencjału zastosowania szczepów probiotycznych w jego zapobieganiu i leczeniu." Narodowe Centrum Nauki PRELUDIUM Okres realizacji: 2020-2023 Kierownik: Marcelina Pyclik
"Rola polisacharydowych składników ściany komórkowej probiotycznych bakterii Lactobacillus casei oraz Lactobacillus paracasei w przebiegu chorób o podłożu alergicznym." Narodowe Centrum Nauki, SONATA Okres realizacji: 2013-2017 Kierownik: Sabina Górska
"Innowacyjny produkt leczniczy przeciwko Clostridioides difficile oparty o przeciwciała IgY." Narodowe Centrum Badań i Rozwoju TANGO IV Okres realizacji: 2020–2021 Kierownik: Andrzej Gamian, wykonawca: Sabina Górska, Agnieszka Razim, Katarzyna Pacyga
"Mapowanie epitopów białek powierzchniowych Clostridium difficile oraz charakterystyka właściwości ochronnych koniugatu epitopu z białkiem nośnikowym w połączeniu z nowoczesnym nanoadiuwantem." Narodowe Centrum Nauki OPUS Okres realizacji: 2017-2021 Kierownik: Andrzej Gamian, wykonawca: Sabina Górska, Agnieszka Razim
"Charakterystyka immunogennych białek Streptococcus agalactiae wraz z identyfikacją epitopu rozpoznawanego przez przeciwciała ochronne krwi pępowiniowej." Narodowe Centrum Nauki OPUS Okres realizacji: 2013-2016 Kierownik: Monika Brzychczy-Włoch (UJ CM), wykonawca: Sabina Górska, Marcelina Pyclik
"Alergia pyłkowa i pokarmowa nie znają granic! Współpraca naukowa i edukacja." Program Operacyjny Współpracy Transgranicznej Republika Czeska – Rzeczpospolita Polska Okres realizacji: 2007-2013 Kierownik: Hana Kozakova (Republika Czeska), członek komitetu zarządzającego: Sabina Górska
"Innowacyjne technologie produkcji biopreparatów na bazie nowej generacji jaj (OVOCURA)." Narodowe Centrum Badań i Rozwoju, Program Operacyjny Innowacyjna Gospodarka Okres realizacji: 2011-2013 Kierownik: Tadeusz Trziszka (UP), wykonawca: Agnieszka Zabłocka